Progressions' Rehab offers group homes for brain injury patients who need long-term care, assistance, and rehabilitation. Read on below to learn more about brain injury group homes in Michigan一what it is, the services we provide, and how it can benefit you or your loved one.
Did you know that, according to the Brain Injury Association of America, approximately 2.8 million in the US sustain a traumatic brain injury per year? In fact, 5.8 million people are currently reported to still be living with the consequences of a brain injury. This includes a wide range of symptoms一from, from temporary muscle impairments to permanent disabilities.
Brain injury can have varying effects from person to person, depending on a lot of factors. Moreover, it can affect every aspect of an individual's life since it can cause physical, mental, cognitive, and behavioral changes in a patient.
Because of its complexity, most individuals with brain injuries still need regular rehabilitation and long-term care after initial hospitalization. This is where brain injury group homes enter the picture.

What are brain injury group homes?
Moderate to severe brain injuries often result in more severe and pronounced symptoms that usually last for years. Some may even be permanent and cause long-term effects on a patient's physical abilities, cognitive function, personality, and behavior.
As a result, patients experiencing such symptoms often follow multiple care pathways to receive continuing care and assistance. Most patients would opt for long-term care facilities that provide lifelong care, such as brain injury group homes.
A brain injury group home provides long-term care, support, and assistance to patients and families battling brain and spinal cord injuries. It is a step down from hospitalization or hospital-based intensive rehabilitation. Essentially, it is an assisted living or inpatient residential program that caters to patients discharged from hospitals but still requires long-term care due to the severity or complexity of TBI symptoms.
Group homes for brain injury patients offer a safe and nurturing environment where residents can live as independently as possible despite their brain injury. It allows patients to get fully rehabilitated and restore their physical, mental, and social skills so they can improve their quality of life.
What happens in brain injury group homes in Michigan?
Patients recovering from a traumatic brain injury in hospitals will usually get assessed by their doctor or medical team regarding their current condition and required level of care. Most patients who cannot perform activities of daily living or function on their own often require long-term care services, such as a brain injury group home provided by Progressions Rehabilitation.
In this program, the patient will be thoroughly evaluated to know their medical, rehabilitative, mental, psychological, and social needs. A medical team from the group home will then create a comprehensive care plan that will address the patient's specific needs and desired goals.
Some examples of therapeutic programs and services that patients might encounter with Michigan home rehab include the following:
Physical therapy and rehabilitative services
Occupational therapy
Speech therapy
Behavior programming
Medication management
On-site nursing services
Recreational activities
Community outings
Transportation to medical appointments
Assistance with activities of daily living, such as bathing, grooming, and dressing
24/7 assistance and staff services
Each patient will receive an individualized treatment plan designed to provide them with a structured day-to-day life full of enriching activities. The programs and services are also created to target and nurture every aspect of the patient's life.
Rehabilitative services focus on maximizing one's independence by working on their strengths and current abilities. Therapy will also aid in gradually restoring their physical abilities or prevent further damage and systemic injuries.
Additionally, brain injury group homes, like Progressions Rehab, make it a point to prioritize a patient's mental well-being and social growth through life enrichment programs.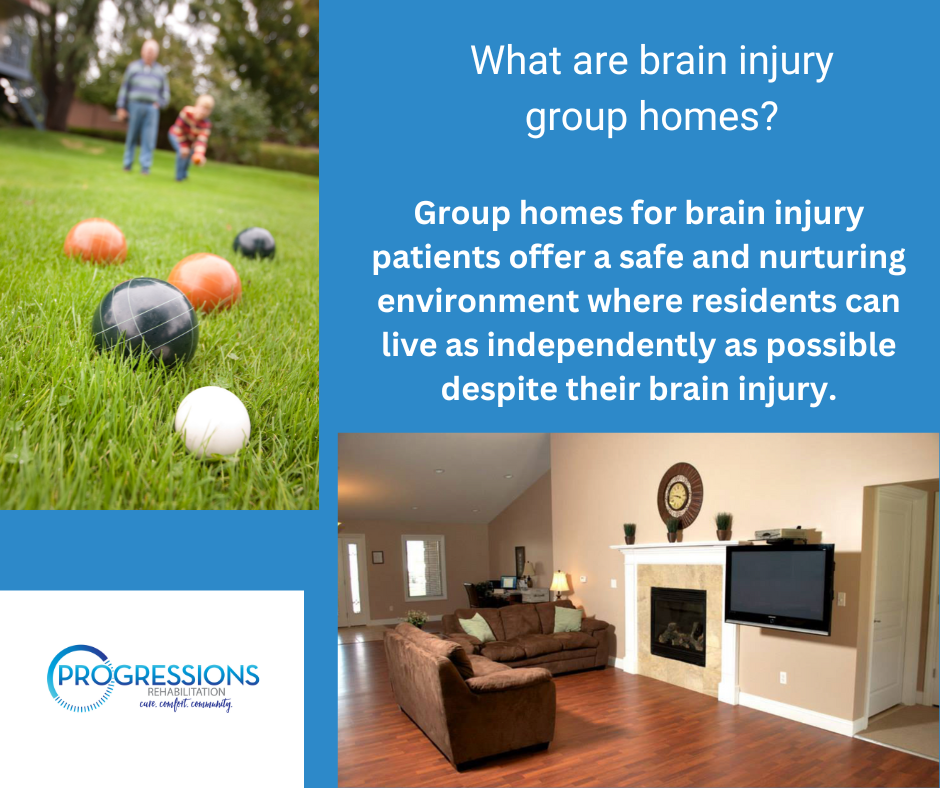 How can brain injury group homes benefit a patient?
Long-term care facilities provide continued care for patients suffering from the lifelong effects of brain injury. They are designed to aid patients who have yet to achieve independent functioning by the time they are discharged from hospital. These are patients whose medical and personal needs cannot be safely and efficiently met in their own home, so a long-term care facility, such as one of our brain injury group homes in Michigan, is the best option.
Some of the benefits that you and your loved one may reap from brain injury group homes in Michigan include the following:
Constant and comprehensive medical care and therapeutic programs.
Personal care and physical support
A professionally trained and licensed medical team, including as doctors, nurses, and physical therapists.
Access to a clean space and safe environment that offers various amenities
Recreational activities that foster familial bonds and healthy relationships.
A healthy community of people where patients can improve their self-confidence and social interdependence.
Security and personal safety.
Quality care
Joining a brain injury group home allows individuals to restore their skills, develop new ones, or learn adaptive ways to improve their functional abilities. This type of facility can aid patients in achieving a balanced lifestyle wherein they can still attain their personal goals despite their condition.
Is Michigan home rehab right for you?
After a thorough evaluation, the patient's team of doctors and medical professionals will decide what type of supportive services best fit the patient's needs. But generally, patients who require traumatic brain injury group homes in Michigan are the following:
Patients discharged or ready to leave the hospital but still requires regular rehabilitation, care, and assistance.
Patients whose needs cannot be met at home, therefore, cannot continue recovery at home after hospital care.
Patient who have yet to achieve independent functioning, thus requiring 24/7 care and support.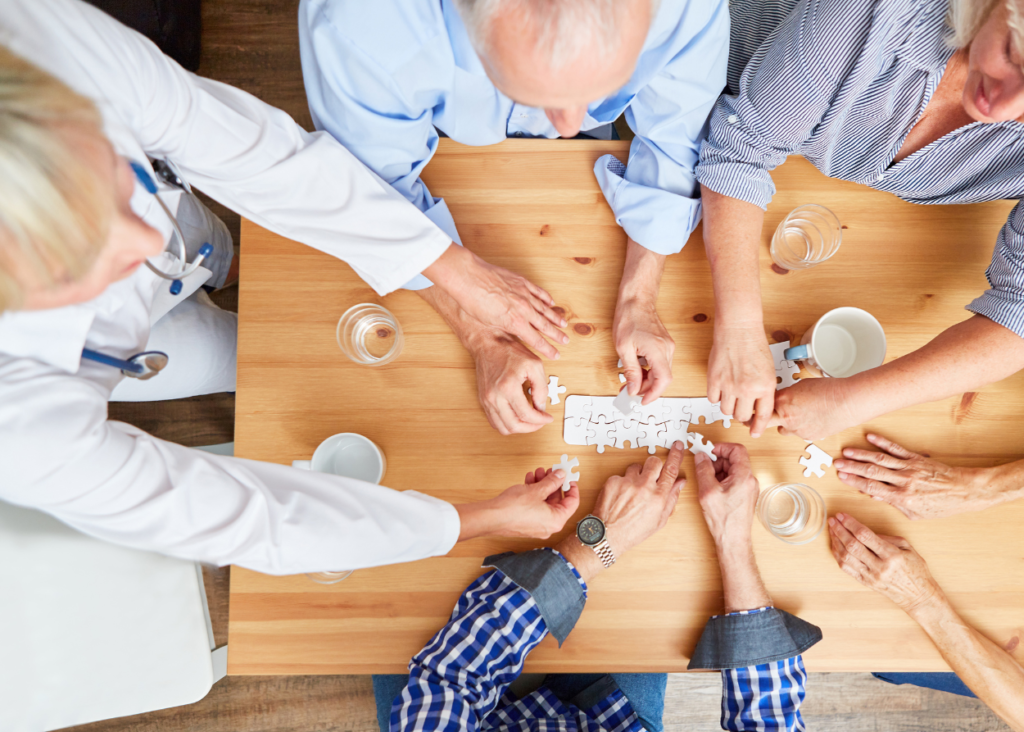 Where to find the best brain injury care homes near me?
Progressions Rehabilitation provides residential and long-term care services in the form of a brain injury group home to survivors of traumatic brain injury and spinal cord injury. Our facility is well-equipped to give residents the opportunity to recover in a high-quality, caring, and compassionate environment.
Our team of healthcare professionals specializes in providing all levels of residential rehabilitation, such as:
Rehabilitation for brain injury
Neuro rehab
Other forms of transitional and supportive living
Contact us now to learn more about our group homes for brain injury patients. Let you or your loved one get the highest quality of care and support you deserve.
The material contained on this site is for informational purposes only and DOES NOT CONSTITUTE THE PROVIDING OF MEDICAL ADVICE, and is not intended to be a substitute for independent professional medical judgment, advice, diagnosis, or treatment. Always seek the advice of your physician or other qualified healthcare providers with any questions or concerns you may have regarding your health.